----------------------------------------------------------------------------------------
It all started with this video yesterday; when a friend of mine and fellow Rafa fan shared it saying it was the best montage he had ever seen. As I watched it, a plethora of memories ran past me. Tennis for me, started with Andre Agassi. I wasn't a Pistol Pete fan. And once Agassi started fading, it was Rafa. Hard to remember why I became a fan but vivid are those memories of reading about the Spanish Armada in The Hindu in late 2003 and about Rafael Nadal, the new kid on the block. Ever since, I've been a fan.
The unending rallies, the everlasting energy, the top spin and the 'grace-less' game as many of the Tennis purists put it. But Rafa to me has been more than just the Tennis. Every point is a never-ending struggle, and it is never over till the ball is out. Chasing the ball like your life depended on it, from one end of the court to the other. Running like a mad bull towards the net to retrieve a clever drop by the player at the other side of the net and converting that otherwise defensive position into a point with an unbelievable passing shot. Sliding, falling and getting yourself dirty as against the graceful Federer who with his single-handed backhand belonged more to an artist studio than on the Tennis court!

It was always about looking to better yourself, about setting targets that had never been topped. About pushing yourself to the edge as much as your body could possibly take … And sometimes even more than it could. From the time he came into the public eye, it was always apparent that someday, his body would no longer be able to hold up to his incessant running and the effort that went into every single point. But for Rafa, the tennis player, it was always about the journey. About achieving something that was a dream, from the time he started playing. There were plenty of naysayers who mocked him and still brand him a clay-courter. But he set about his goals and achieved nearly every possible achievement in the world of Tennis. All 4 Grand Slams, a record number of Masters Series Triumphs, The Olympic Singles Gold, the Number 1 ranking and the Davis Cup, something that other contenders for greatest of all-time like Federer have tried and failed at.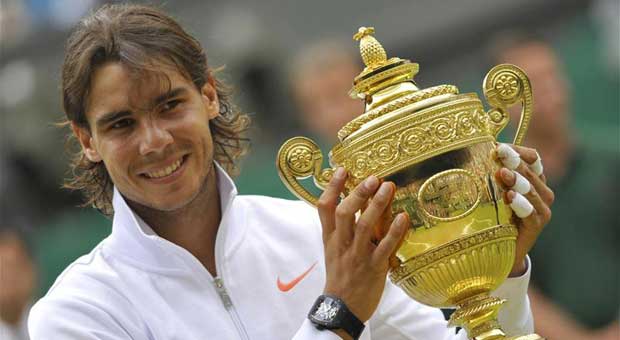 The humbleness, the constant underplaying of his achievements no matter how large, having good things to say about all his rivals made me fall in love with him. The ability to come back from nowhere; in matches with two sets down, staring down the barrel of defeat, saving match-points, breakpoints. And that fighting attitude was not just with life on the tennis court, the qualities that extended to his life outside it, as you fought from the point of no return with your unique foot ailment. From not being able to walk properly without pain, to come back better than ever before, completing the career slam and triumphing against all odds.

Rafa, is a role model. A person I respect for the values he portrays and standby – the family he always go back to. The perseverance and the tenacity to achieve something even if things look impossible. The ability and the strength to keep improving himself and push towards achieving the then seemingly impossible goal of the Spanish clay-courter winning on the grass of Wimbledon. The passion on the tennis court, every single time.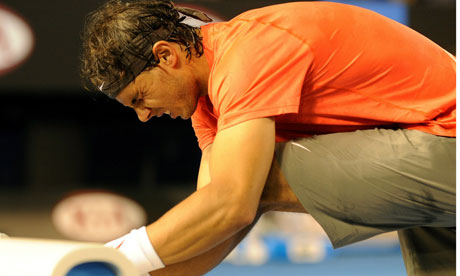 Tears roll down my cheek as I read his autobiography and all these articles that are writing him off. I hope they are wrong once again, like they were a few years back. Like they have always been. But guess only time will tell, if he will be back on the tennis court. Chasing that ball, that seemingly eluded him before he put it back in play with yet another of his unbelievable returns.

One thing is for sure: if there's someone I will show my kid, in case he/she is even mildly interested in tennis, it will not be videos of Pistol Pete, Rod Laver, Bjorn Borg or Roger Federer. It will be of Rafa. The one who showed me time and again, that it is indeed possible to triumph against all odds.

What a sportsman. What a fighter.